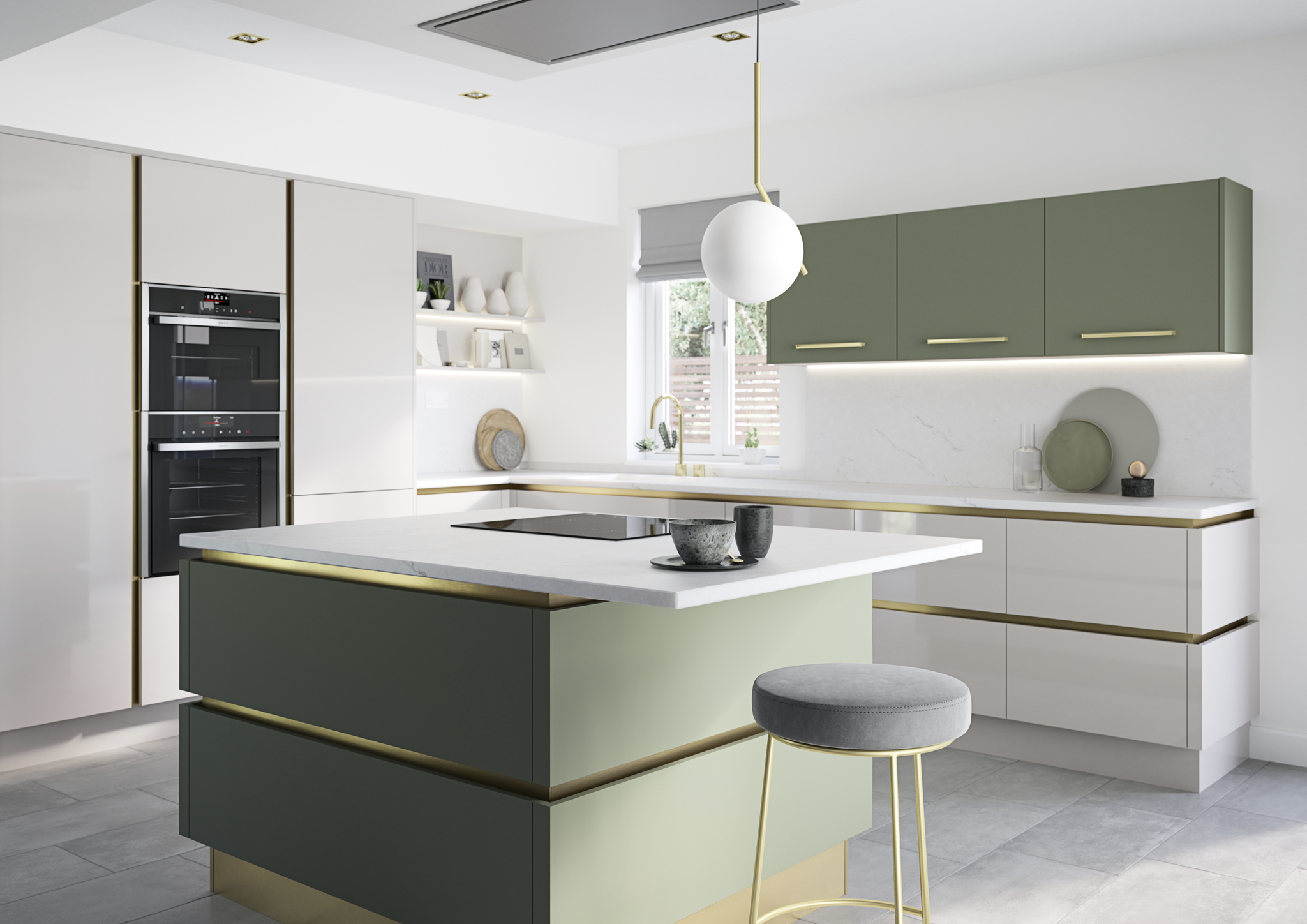 Our Mission
Our passion and motivation is to design and install your dream kitchen, providing all the experience and inspiration you would get from an independent kitchen design studio – without the showroom price tag.
Book Your Initial Design Consultation Today
If you have any questions or would like an informal chat about your project, please do not hesitate to get in touch. We would be delighted to hear from you.
Bespoke Kitchen Design
Polished Kitchen Designs is a local kitchen design company based in Sussex, offering a bespoke and personal kitchen design service at competitive prices. We offer kitchen design, supply, installation and project management depending on our clients needs. We work closely with you to deliver a customised kitchen that coincides perfectly with your lifestyle, design preferences and architecture.
Achieve Your Dream Kitchen
We have a beautiful array of stocked colours for you to choose from and if you are looking for something more bespoke, we offer a paint to order colour palette which features the most on trend colours right now. We are proud to tailor our designs to your own unique budget, whilst providing an unrivalled, exceptional personal service throughout the entire design and installation process. View our collection for inspiration.
The Highest Design Standards
Each of the collections we host are manufactured to only the highest standards, customised to your requirements and personal taste as part of our fully managed design and installation service. From start to finish, we manage the entire project, meaning that we are on hand throughout the whole project; making several site visits during the installation process. We will provide you with a seamless, stress free end-to-end service.
Added Value
As we don't have a studio, we are able to offer the same exceptional quality products and customer service without the high showroom price tag. The savings we make are directly passed onto you – our valued clients. Unlike the high street retailers, We see every project through from design to completion. We are your point of contact throughout the whole journey. We feel this is crucial for clients when they are undertaking such a big project and investment, and we love to see the end transformations!
"We are over the moon with how everything has turned out. We can't thank you enough for the stress-free job from start to finish. We would not hesitate in recommending you and your team to anyone, we really hope you company grows from strength to strength in the future. Our kitchen looks amazing "
Russell - Horsham
"We used Polished Kitchen Designs for a new kitchen earlier this year. We found Sarah really easy to work with. She came to our home in the evening, after work at our convenience and the kitchen was installed with minimum fuss. We now have a stunning family kitchen which looks amazing and is very functional. I would thoroughly recommend using this company."
Jo - Cuckfield
"Sarah & Amy, and their whole team were fantastic. The design ideas were inventive and the level of service they provided throughout was superb. We loved how Amy & Sarah worked on the project from the start to the finish, and were always at the end of the phone if needed."
Denise - East Grinstead
"Sarah and Amy are friendly and approachable and very talented designers. Their creative flair was apparent from the first concept we received from them."
Rik - Crawley
"We wouldn't hesitate to recommend Polished Kitchen Designs to anyone looking for a new kitchen, and should we be in need of another one for the next project we definitely know where to go!"
Tina - Hurstpierpoint
"Fantastic work by everyone at Polished Kitchen Designs on my new kitchen. Design, hard work and great organisation. The house has been transformed!"​
Clive - Horsham
"I found Amy and Sarah really helpful throughout the design process coming up with great ideas and bringing the kitchen space to life which was part of a larger extension project. They oversaw the project from start to finish and came to site regularly to have meetings with the builders and make sure everything was going to plan. The installation was excellent and Jonny's attention to detail was second to none. We are enjoying the new space very much – thank you Polished Kitchen Designs for a fantastic job and service!"
Nigel - Ansty
"We heartily recommend you use Amy and Sarah from Polished Kitchen Designs. They exude expertise, are attentive, really listening to your requirements, efficient and tenacious, solving problems with aptitude. Our new kitchen and utility has positively transformed our living, we love it. The quality of the kitchen is impressive and the fitter Jonny was perfect, integrating our needs into the plan. Thank you Polished Kitchen Designs!"
Louise - Bolnore Village
Rachel Leach
20 October 2023
I can highly recommend Polished Kitchen Designs, who have just designed our kitchen within our house renovation. Amy and Sarah are so lovely to work with, they accommodated many changes throughout our build as the space was completely new. The designs they produced were really thorough and easy to view and visualise and the range of styles they have available is brilliant. We were able to go to their suppliers showroom to view all of the products. Couldn't be happier with our kitchen, absolutely love it and really such an easy and enjoyable process with them both. Thank you Amy and Sarah xx
Amy and Sarah are very professional, knowledgeable and helpful, and made the whole experience stress free and with no hard sell. We are delighted with our new kitchen.
If you are thinking about getting a new kitchen, we highly recommend Amy & Sarah of Polished Kitchens Designs. They were extremely helpful in choosing the best design for us, working with our budget, and thinking about the details such as handles and worktop. Their level of service is phenomenal. We are thrilled with the result and can't wait to show it off! Thank you so much, we love our new kitchen 😍
Andy Henry
7 January 2023
Amy and Sarah were recommended to us by our builder when we were first considering updating our kitchen. From the very first meeting through the whole of the build and installation, we have been so impressed by their knowledge, design insight, attention to detail and professionalism. The initial design process was carried out via a number of meetings where our thoughts and ideas were discussed. A couple of design concepts were proposed where it was shown how we could use our space much more effectively. The end result has been a kitchen that we love more and more each day. Everything is situated in the optimal position and the whole design works so well. For us, we did not take down any walls or undertake major structural changes, and yet the transformation of our kitchen is astounding. We would highly recommend Polished Kitchens to anyone interested in updating their kitchen. You will not be disappointed. Thank you Amy and Sarah for bringing our wonderful kitchen to life.
Lori Swale
14 October 2022
Fantastic service! The process of choosing the kitchen design was so smooth and easy. Thank you Sarah and Amy! Timing promises were met. The kitchen is beautiful. I wholeheartedly recommend Polished Kitchens for a hassle free process and good product.
Laurence Gyton
7 October 2022
Sarah really listened to what we wanted from our kitchen design but also came up with other brilliant ideas we wouldn't have considered to create an even better idea. Professional and responsive throughout the whole process we now have an incredible kitchen that our whole family can enjoy we never thought we could have! Thank you! Laurence and Jodie
Claire Stott
27 September 2022
Professional, friendly, helpful from start to finish in terms turning ideas in to real options and seeing it through to final install completion. Customer service is great, never wait for an answer, and always on hand for advice. Many thanks Sarah and Amy.
Jane King
23 September 2022
I can't speak highly enough of the service we had from Amy and Sarah at Polished Kitchen. They were an absolute delight to deal with, delivered a professional and efficient service, coordinated all the various aspects of the build, managed the issues that invariably arise in projects such as these with resourcefulness and good humour. We are absolutely delighted with our new kitchen and have no hesitation in recommending them.
We are thrilled with our new kitchen from Sarah and Amy at Polished Kitchen Designs. The process has been stress free from start to finish as Sarah and Amy guided us through the whole project. Their fitter Jonny Lea was amazing and was a pleasure to have in our home. We couldn't be happier with the end result and we would definitely recommend them and their team.
Jillian Briggs
16 June 2022
Amy and Sarah designed and installed the most amazing kitchen for us in Ardingly, Sussex. The trip to their supplier's showroom was fantastic as there is a huge range of kitchens to view (and some great ideas to pinch). Their quote was cheaper than others we'd received (I would guess because they don't pay out for showroom premises). We also loved their design ideas as they had really thought about how our family would use the space. After our initial meeting we decided to increase the size of the kitchen and would therefore need to look at reducing costs. They came up with some great workable ideas such as a wooden worksurface for our kitchen island instead of quarz - which we absolutely love as it adds warmth to the whole kitchen. Such a great experience overall.
Download Your Design Brochures
Why not sit back with a cup of tea and flick through our free, extensive design brochures? It's the perfect place to start planning your dream kitchen, with a little something
for everyone!