There can be so many options to consider when deciding the final design for your new kitchen. Redesigning the heart of your home is a commitment, and one that you don't want to start without knowing exactly what you want.
Whether you're looking for inspiration for a future project, or you're ready to start the process now, we have a wide range of kitchen design ideas to choose from!
As part of our unique service, we start every project with a detailed design meeting. It's at this point we run through your options, share with you some samples, and take on board each of your design preferences.
We've detailed some of the most popular designs we have on offer below.
Mornington Beaded Shaker
This kitchen design is one of the more traditional styles we offer. Formed from solid ash with a veneered centre panel, this design is the perfect hybrid of classic elegance with a touch of modern minimalism.
This versatile design looks fantastic with wooden or tile flooring, making it a popular choice with lots of our clients across Sussex. Its elegant yet simple framing makes this Mornington design perfect for kitchens of all sizes, creating a spacious and airy feel throughout.
We have included an example of one of our Mornington Projects below, with this one being fitted for a very happy client in Tandridge. The client wanted to create a beautiful and practical setting to the family home. With plenty of kitchen storage and a spacious dining area, this is a perfect example of what a Mornington Beaded Shaker design can do for your kitchen.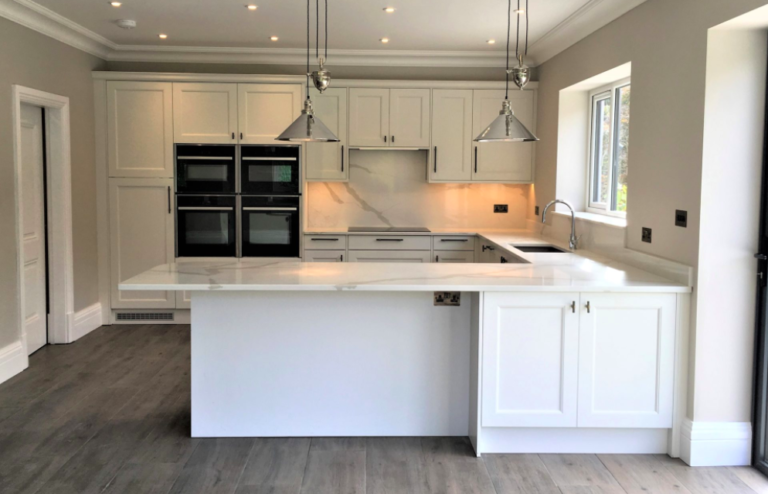 Remo
This design is a slightly more modern and minimalist design than the Mornington Beaded Shaker. With an integrated j-pull handle, this sleek finish creates a contemporary and uncluttered kitchen.
The Remo design comes in a range of colours, predominantly lighter pastel tones. This lighter palette choice adds to the open and airy feel of the final design. Much like the Mornington, this makes the Remo finish perfect for both open plan and smaller kitchens.
Below you can see an example of our latest Remo project, designed and fitted for a very happy client in Bolnore! This client decided to go with a natural wood decor to compliment the natural, minimalist look of the design.
Porter Kitchen
This pure slab door design comes with either a matte or gloss finish depending on your preference. Much like the Remo kitchen design, this style offers a timeless modern finish to any kitchen.
Coming in various colours, the Porter design has the option of either a handled or handleless doors. If you do choose the handled design, you can pick from your choice of complimentary handle.
Below is an example of a Porter design we installed for a client in East Grinstead earlier this year. With a cosier room, it was important to find a design that opened the space as best as possible and create an airy feel. The light tone doors and countertop really help towards keeping the kitchen layout bright and open.
We hope this blog has gone some way to helping you know which dream kitchen design ideas you not only like the look of, but also how different styles can compliment the space you have. To see our full collection of kitchen designs, please click here.
If you feel like you're at the beginning of your kitchen redesign journey and you are looking to book your first design meeting, please get in touch by clicking here.