2019 hasn't passed us just yet, but with kitchen
trends stopping for no one, we've already got one eye on some of the top
kitchens for 2020.
As we're now taking project bookings for the new year, we'd like to share with you some of the kitchen trends that are already proving most popular. We've broken down some of our personal favourites into a short and snappy top 5 list, in the hope that we may help inspire your new kitchen.
1. One of the kitchen trends that has proved extremely popular, as you would imagine, are these beautiful fluted glass doors. A style of glass that brings decorative elegance to any kitchen, these doors look especially good alongside the washed green cabinets and stone surfaces.
This design is a perfect and understated way of bringing light and texture into your kitchen, without having to go for bright colours schemes and appliances. A backing light to go into each cabinet is plenty enough to draw everybody's attention to the shaped glass, whilst still keeping its elegance.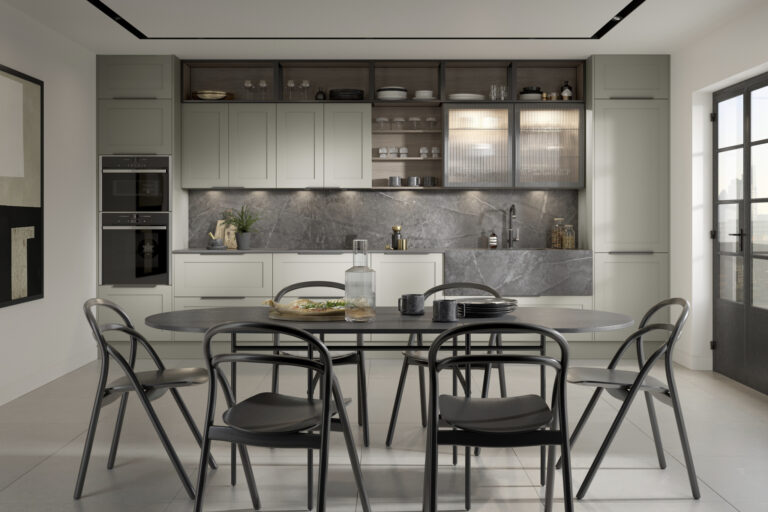 2. Number two on our list has already proven to be a firm favourite throughout 2019, but we have a feeling that it will be around for quite a while longer! This fantastic and homely Mornington Shaker Design is the definition of style and practicality. We've stocked this design for some time now, but this colour, Hartforth Blue, is brand new to our range!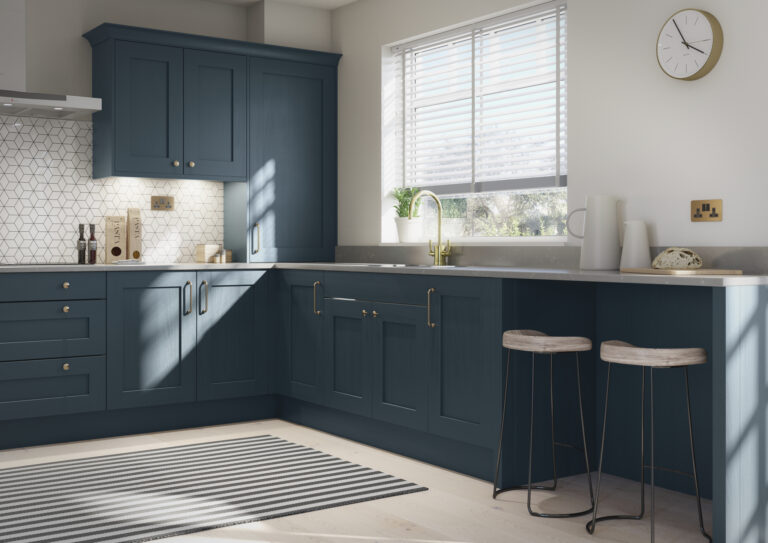 3. Third, on our new year favourites list is currently one of the most popular design trends around. Gold styled accessories, including taps and sinks, are a great way of adding that final element of class and shine to your brand-new kitchen.
Taps have been available in a wide range of styles and finishes for some time now, but now sinks are following suit. When used alongside the right design, golden accessories can finish off the room's aesthetic perfectly. We would recommend using them with another brand-new design we have – the Clarenden Inframe Shaker!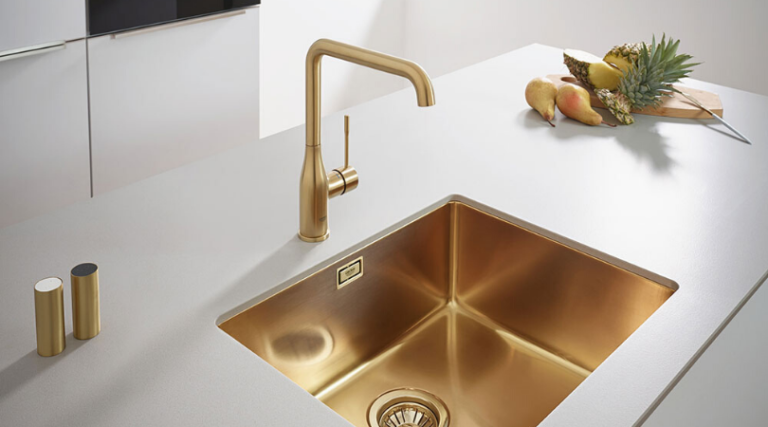 4. Well, this has followed on nicely. Our brand new Clarenden Inframe Shaker range comes in a wide range of colours, but today we're focusing on one in particular. The fantastic blue finish makes this design a perfect fit for any modern home. With this design relying more so on its use of colour than garish surfaces and splashbacks, there is no wonder it's already proving popular for the new year.
A beautiful wooden floor and brick feature wall round this kitchen trend off nicely, not to mention those stylish golden taps and handles!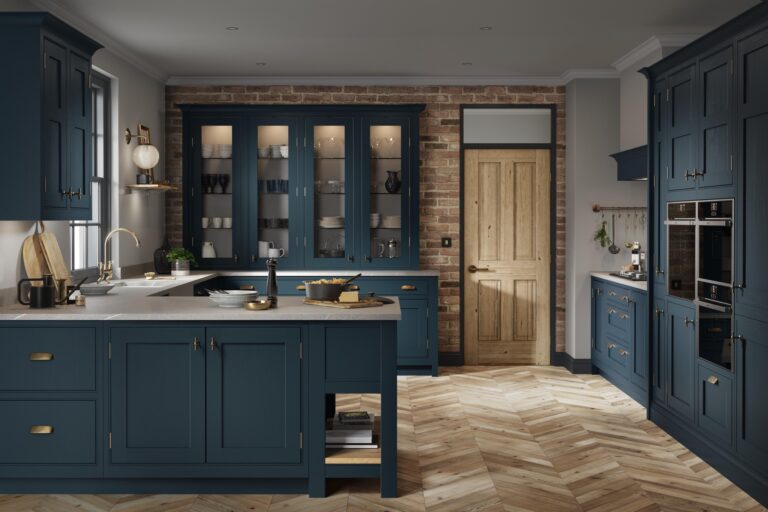 5. It's been overlooked for some time now, but we think that wood is on the comeback for a lot of contemporary kitchen designs. From cabinet and counter surfaces to floors, wood has been replaced with a range of other materials, styles and finishes in recent times. This said we're absolutely loving this wooden flooring design alongside the Inframe Shaker kitchen. Adding extra textures to your work surfaces, such as wood, is a great way of making the room more dynamic in style!
So, there you have it. Our top 5 emerging kitchen trends for 2020. If you would like to find out more about our range of these styles and products or would like to book your no-obligation consultation, then please contact us here.
We are now taking bookings for 2020. Are you looking to start your new year off with a new style? Take a look at our inspiration page here!
In the meantime, why not take a look at our YouTube Channel by clicking here.